Candelabra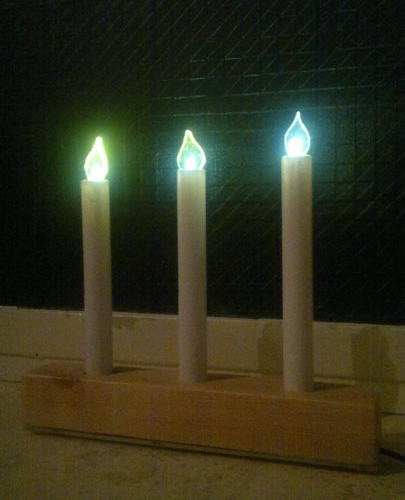 Background
It was November of 2010 when I got an idea to build a candelabra. I hoped I could finish it before Christmas. I knew it was going to be a tight schedule since I had only a few materials ready. So I had to use what I happened to find from here and there.
Technical details
The candelabra consists of the following main parts:
Wooden base
Three plastic pipes
Control board with microcontroller etc. on it
3 white LEDs
Some wire
An old Nokia charger
As seen from the list above some of the used materials are recycled. The wooden base is made out of a piece of a waste wood came with a new washing machine. The old charger came with an old Nokia phone years back.
The three plastic pipes are painted white. I painted them "too much" so that the paint drains over making the plastic pipes looking more like real candles.
A small software inside the microcontroller just flashes the three LEDs trying to make an illusion that they are real fire. There's no switch anywhere and the cable can not be detached from the candelabra. That's on purpose. This way the user (in this case me) will remove the charger from the wall outlet instead of turning it off from a switch. This saves some power and a risk that the old Nokia charger causes a fire is minimized.
Usage
Since Christmas 2010 I've fished out the candelabra every 1st of December of every year. And put it on a window. And back to storage in January.